---
Marine Science Center reopens bird hospital  
Posted On: March 24, 2023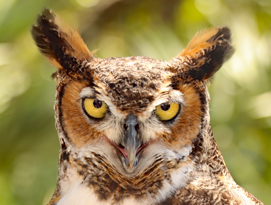 With a better understanding of the avian flu and protocols to increase the safety of native birds and staff, the Marine Science Center has reopened its bird hospital and resumed admission of sick and injured birds.
Staff is available from 8 a.m. to 4 p.m. seven days a week to accept bird patients at the bird hospital, 4965 S. Peninsula Drive, Ponce Inlet.
"The Marine Science Center Bird Hospital is a crucial resource for the community and its native wild birds," said Bird Hospital Manager Tracy Dawson. "With the reopening, we are once again able to provide expert care for sick and injured wild birds."
All new birds will be screened for symptoms of the avian flu before entering the bird hospital and will undergo a quarantine period before being released into the flight enclosure. This measure will help prevent the spread of disease and ensure that the birds are healthy and fit for release.
The bird hospital had been closed since February 2022. During the closure, staff completed several construction projects, providing the bird hospital with easy-to-disinfect surfaces, including nonporous flooring and scrubbable ceiling tiles. Staff has undergone in-depth training on biosecurity protocols, including the use of personal protective equipment, to reduce the risk of disease outbreaks.
According to the Centers for Disease Control's website: "Since 2022, despite the wide geographic spread of highly pathogenic avian influenza (HPAI) A(H5N1) viruses in wild birds and to poultry worldwide, with sporadic spillover to mammals, only a small number of sporadic human cases of A(H5N1) have been identified. All reported human cases since 2022 were associated with recent poultry exposures, and no cases of human-to-human transmission have been identified. To date, HPAI A(H5N1) viruses currently circulating in birds and poultry, with spillover to mammals, and those that have caused human infections do not have the ability to easily bind to receptors that predominate in the human upper respiratory tract. Therefore, the current risk to the public from HPAI A(H5N1) viruses remains low. However, because of the potential for influenza viruses to rapidly evolve and the wide global prevalence of HPAI A(H5N1) viruses in wild birds and poultry outbreaks, continued sporadic human infections are anticipated."
Pictured is Bubba, a great horned owl who broke a wing and is a permanent resident of the bird hospital.
The Marine Science Center provides treatment and rehabilitation for an average of 1,100 sick and injured birds each year and provides a permanent residence for birds that cannot be released. For more information, the call the Marine Science Center at 386-304-5530 or visit www.marinesciencecenter.com.