---
MISSION AND VISION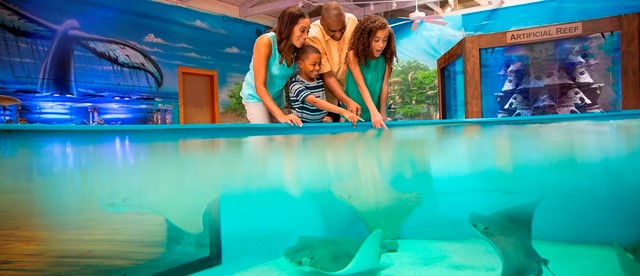 The Marine Science Center (MSC) opened in 2002 and has since played an important part in rescuing, rehabilitating and releasing many species of sea turtles and seabirds, many of which are endangered. Since its opening, the MSC has admitted over 20,000 sea turtles and 18,000 seabirds into rehabilitation to help maintain the populations of these critical species. The MSC also functions as an environmental learning center that focuses its mission and vision on the education and conservation of Volusia County's fragile marine and terrestrial ecosystems. Combining the rehabilitation hospitals with an exhibit gallery and educational programs allows the MSC to teach its visitors about living in harmony with our environment and how each one of us can help conserve our resources through environmental stewardship.
Marine Science Center Mission
Create inspiring marine education experiences, which empower our guests.
Provide outstanding sea turtle and seabird rehabilitation.
Promote the emerging field of conservation medicine.
Marine Science Center Vision
To continue to provide an outstanding environmental education and rehabilitation center that advances the efforts of sea turtle, bird and marine mammal rescue, rehabilitation and education.
To expand the current facility through a comprehensive plan for site development that will create a premier destination for immersive, interactive marine educational experiences.