---
Home
|
CALENDAR OF EVENTS
Explore Volusia: IRL paddle
Event Date(s)
Begins: December 20, 2022 9:00 am
Ends: December 20, 2022 11:00 am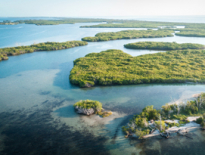 Explore the northern end of the Indian River Lagoon while paddling from Riverbreeze Park to surrounding areas. Participants may see manatees, dolphins and many species of birds. Bring a kayak, canoe or stand-up paddleboard along with a life preserver and whistle. Meet 250 H.H. Burch Road, Oak Hill.
Volusia County's Environmental Management Division sponsors outdoor adventures to acquaint residents with the county's conservation lands and land management practices.
Registration is required; call 386-736-5927.